Une Escargatoire ou Surfeit

By Margaret Sheppard ( volunteer in the park orchard)

Found huddled together in the Orchard yesterday this escargatoire (and the French should know) of snails wasn't so much a nursery as an extremely large collection. Perhaps a surfeit of snails would be a good name. They were clustered together in a large bag of stones so had to be individually detached by hand. Fortunately I got to them before they got to our lovely orchard plants. I was so shocked by the sheer volume of the mass that I bagged them all up and took them home to weigh:
7 lb 7oz! And I'd already dealt with a few on site!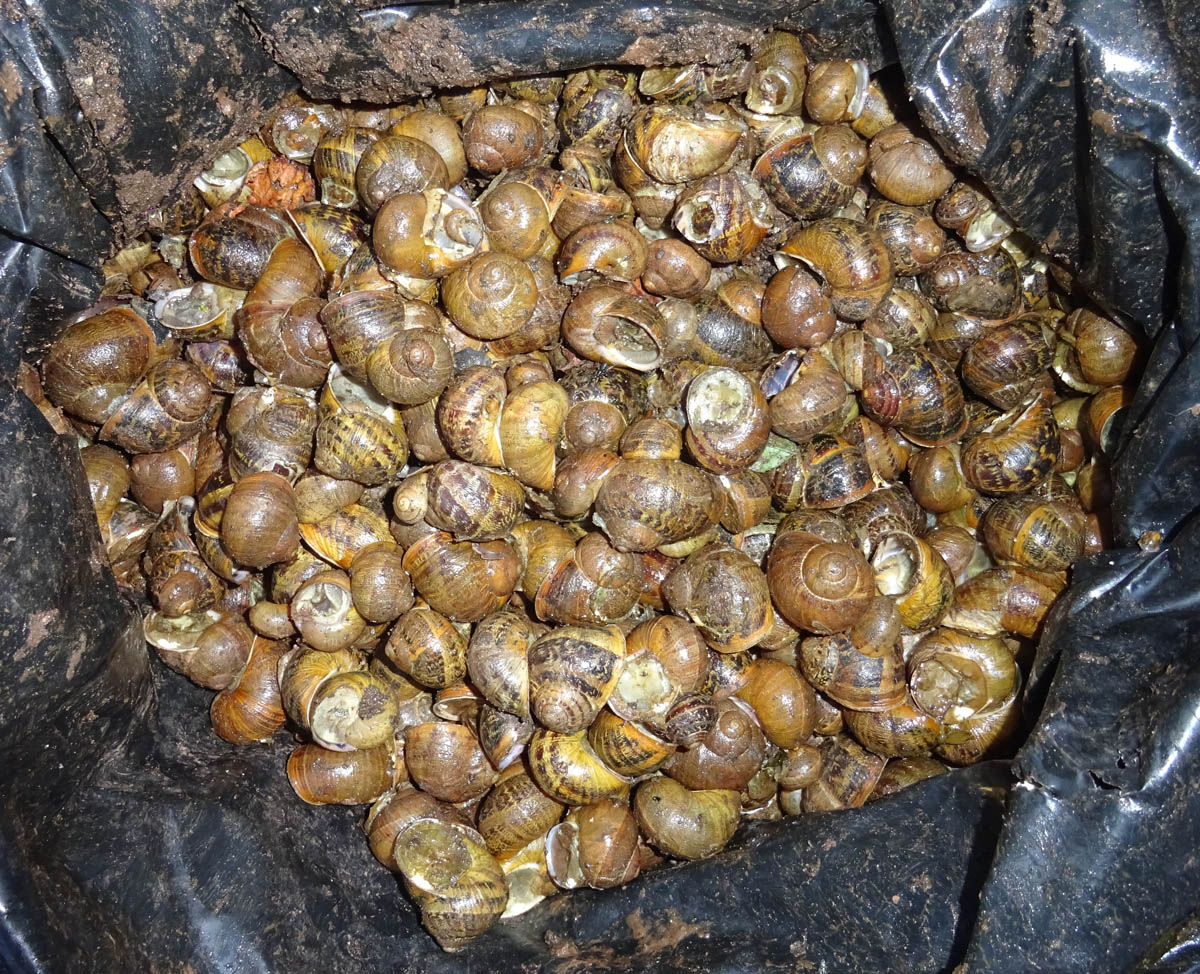 The collection of terrestrial pulmonate gastropod molluscs.
Michael Brown posts-

It has been raining a lot for weeks now, that steady fine drizzle that comes in from the sea and off Dartmoor. And now there are a lot of snails. I have been lifting my cascading aubretia on the garden walls and scraping them off with a dustpan to collect them – several at a time.  They are everywhere, especially in my dahlias. The ones that escaped the dustpan fell to the floor and accidently ended up under foot.

 I quite like snails. I have eaten them with garlic butter and they are good food for hedgehogs and blackbirds. But they are a nuisance; they eat the plants and leave slimy trails everywhere. But looking at them in the photo, I noticed how sleepy they look, have they been up all night galavanting?
Margaret,  they would make great house pets, they aren't noisy, can't run away, they don't bark all night or rip your nice net curtains. You could keep them in your food waste bin at night and have them in an escargarium during the day where you could watch them. It would be very calming. You could charge people to come and be de-stressed.

Well Margaret, you haven't said what you did with them after you weighed them.
Will I be reading about a mass murder in the Teignmouth News?
Facts that you should know - The olfactory epithelia of terrestrial pulmonate gastropod molluscs have modified brush borders with long branching plasmatic processes and a spongy layer of cytoplasmic tubules which extend from the epithelial cells. !!!
But you probably already knew that.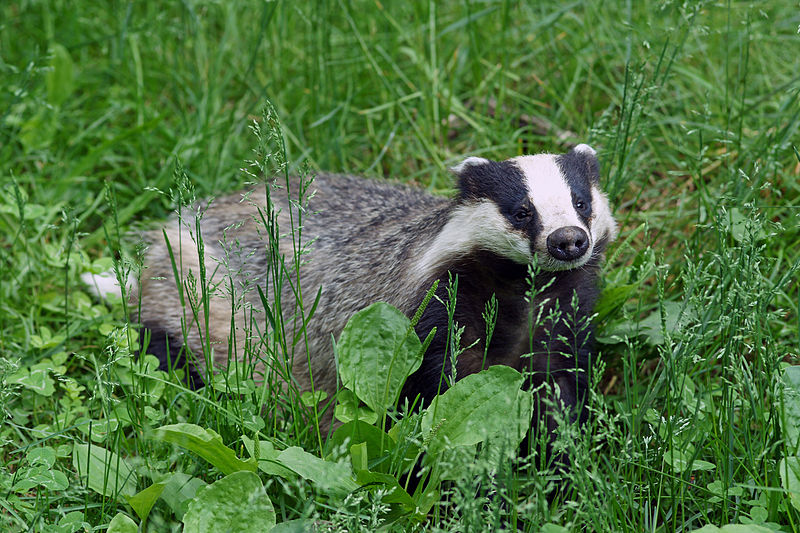 This file is licensed under the Wikipedia Creative Commons Attribution-Share Alike.

If you are walking past the 5 oaks in the middle of the park, look across the path to the other side and you will see a couple of damaged trees. These are badger scratching posts. The tree at the front has much fresher damage. I took some photos.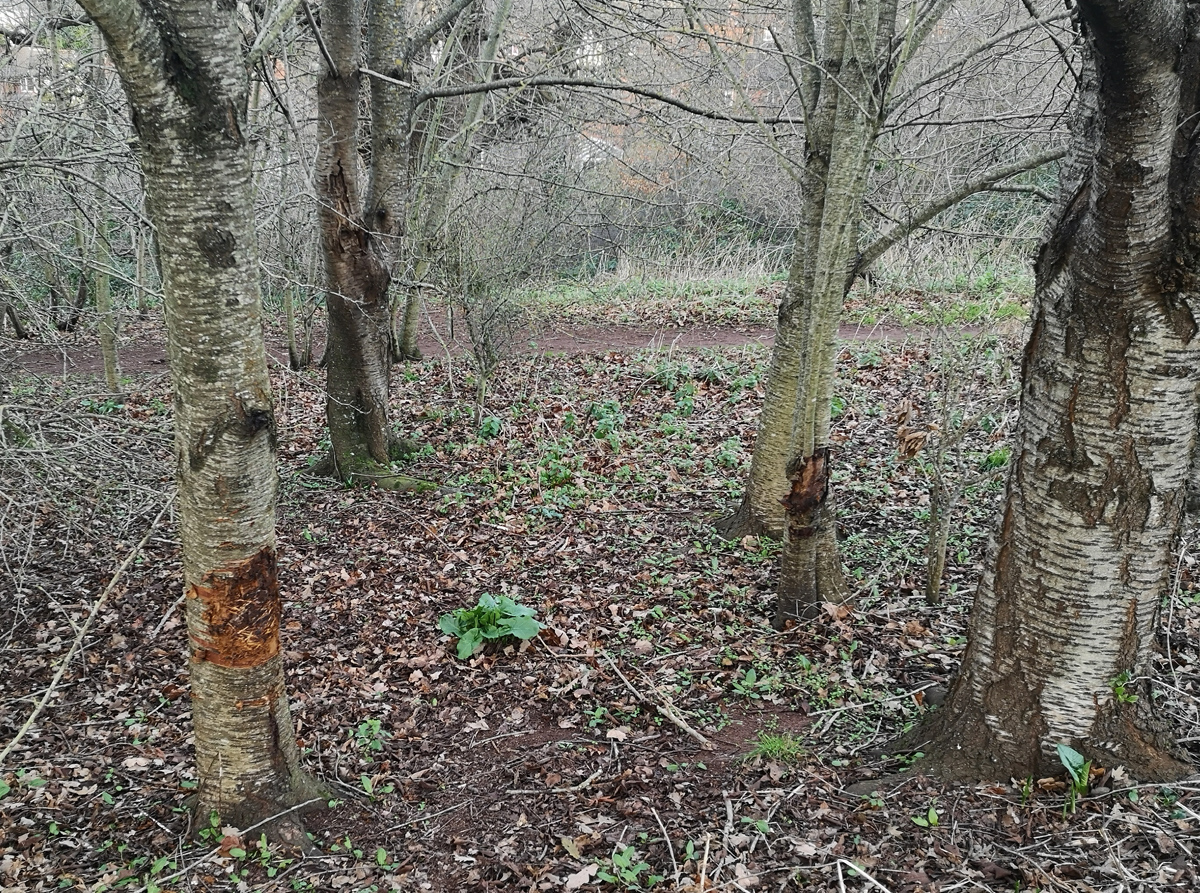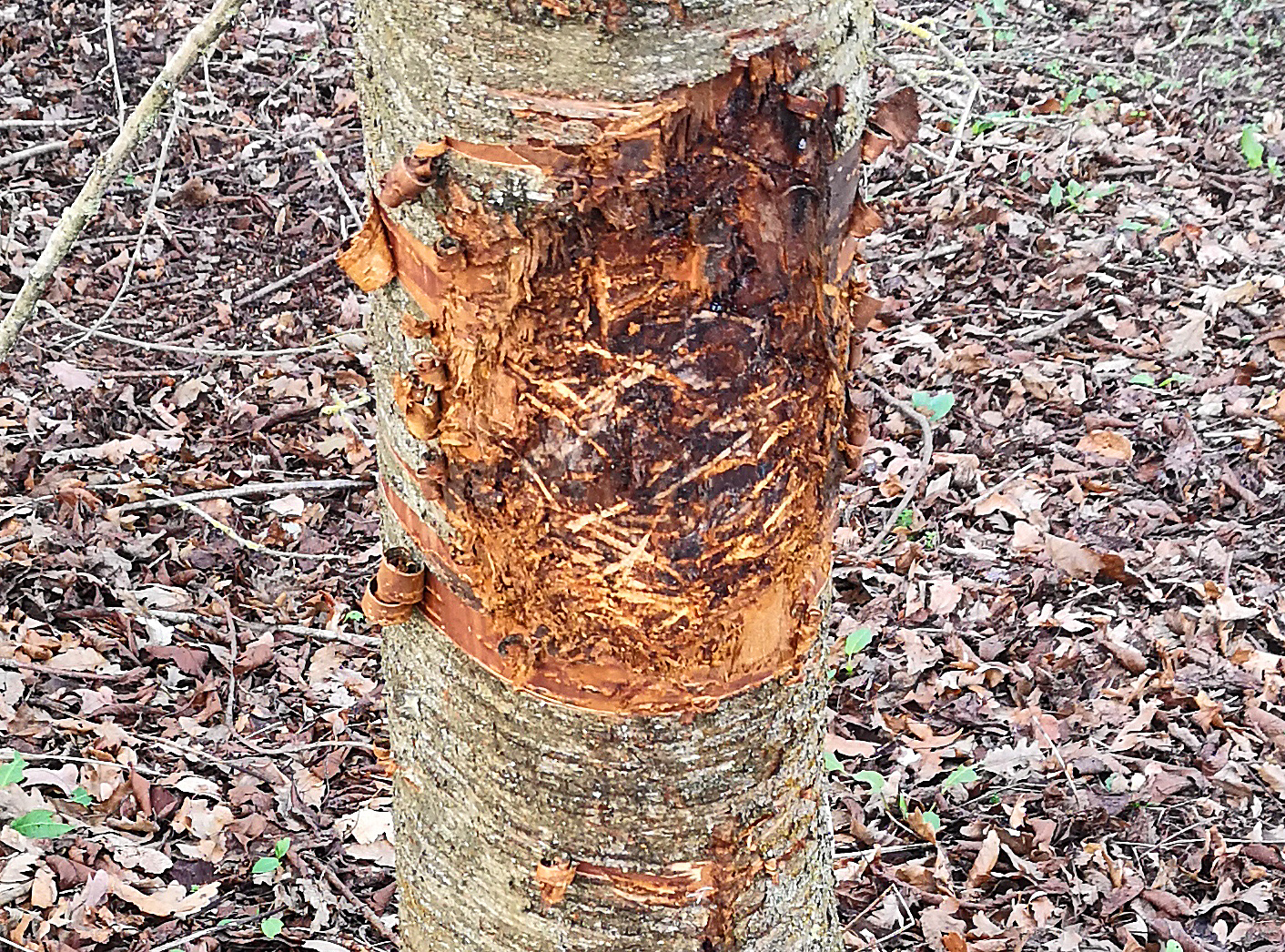 You can clearly see the claw marks. There have been badger sets next to the fields above the park for many years and this may be a way of marking their boundary.
This file is licensed under the Wikipedia Creative Commons Attribution-Share Alike
Just had this message for a snake spotter-
Whilst walking today at 1pm in Eastcliff I nearly trod on a snake at least 3ft in length, green in colour, maybe a grass snake but looked online only 2ft in length this snake was at least 3 ft and 30mm thick, never seen anything like it in uk, please inform dog walkers as it may not be native to uk, looked online all day nothing like this native.
Around about 5pm on the last few evenings there has been a flock (called a charm) of Goldfinches arriving in the park before they go off to roost. If you want to see them, they congregate in the tallest tree right at the top of the park. They flock together in small groups of half a dozen or so and chatter about the days business and where they found the best food etc. Then they fly off and get together with other groups and come back a minute or so later with an even bigger flock. They keep on doing this until by about 5.15 tonight there were now just two flocks of about 100 each in and out of the tree all chattering away. Small groups then split up and start heading off to roost. I don't know where but they all headed North in the direction of Dawlish. By 5.30 they were all gone and it was quiet again.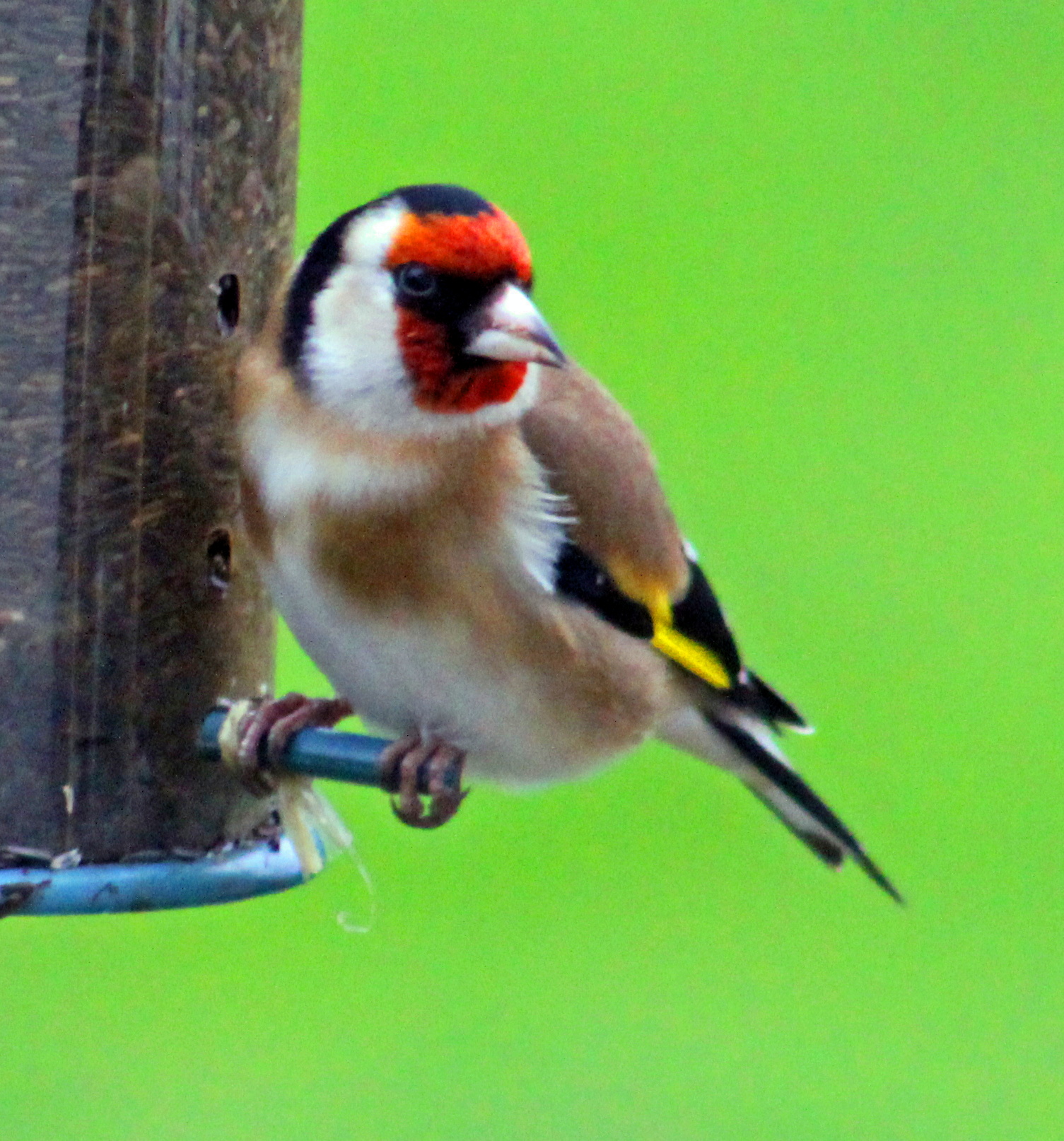 Flocks of Goldfinches arrived in the park this weekend.
And a flock or group of them is called A CHARM !

The autumn population is increased by the passage of European birds down eastern Britain. The sudden cold spell in the North may have brought them down here. Some of our breeding birds migrate to France and Spain, but birds that migrate one year will not necessarily migrate in others.
Goldfinches feed on various tree seeds, such as alder and birch, and on thistle, teasel and dandelion seeds, which it can obtain owing to its thin bill and light weight.
Niger seed and teasels may attract them into your garden, but they will also feed on sunflower hearts.
You may see them in the park in rough ground with thistles and other seeding plants, and they like orchards, gardens, heathland and common.
They have recovered from a serious decline in the 1970s and 80s caused by the increased use of herbicides.

European Goldfinch (Carduelis carduelis)
Golden brown, red, black and white head and yellow wing bar.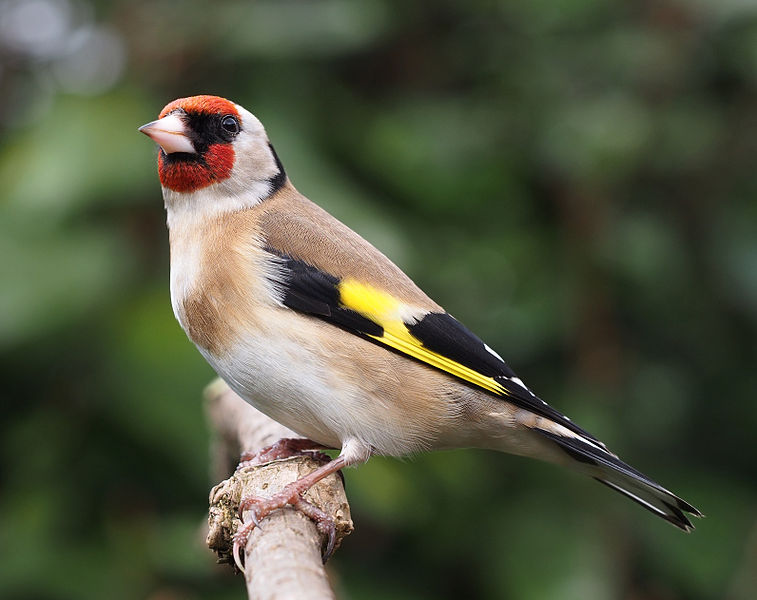 Photo Attribution: © Francis C. Franklin / CC-BY-SA-3.0 [CC BY-SA 3.0 (http://creativecommons.org/licenses/by-sa/3.0)], via Wikimedia Commons 
Flocks of Greenfinches (Carduelinae Chloris chloris) have also suddenly appeared.
Their populations declined during the late 1970s and early 1980s, but increased dramatically during the 1990s. A recent decline in numbers has been linked to an outbreak of trichomonosis, a parasite-induced disease which prevents the birds from feeding properly.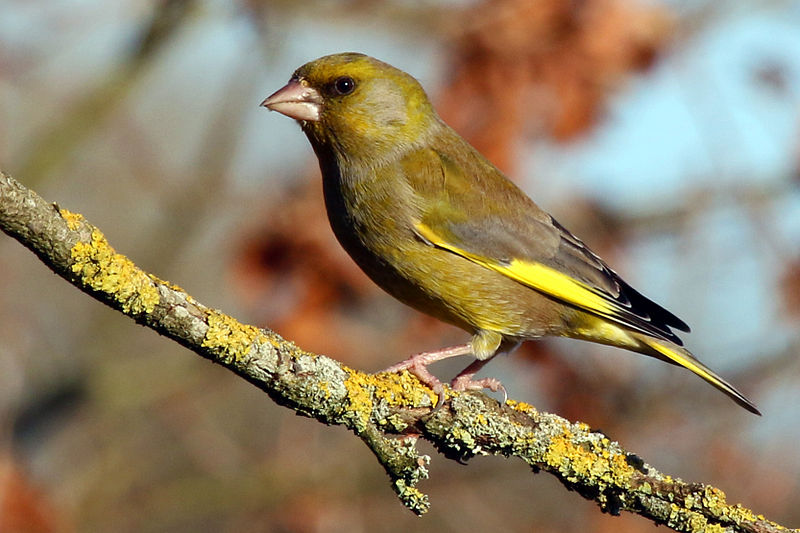 Photo courtesy of Charlesjsharp (Own work, from Sharp Photography, sharpphotography) [CC BY-SA 3.0 (http://creativecommons.org/licenses/by-sa/3.0)], via Wikimedia Commons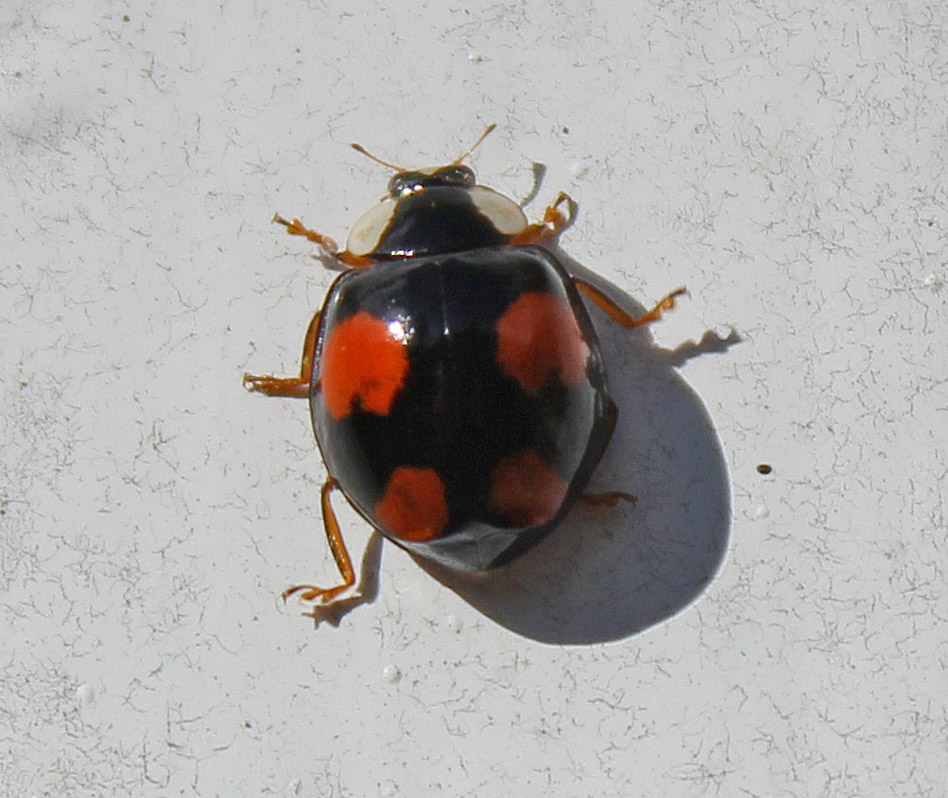 Millions of alien ladybirds riddled with sexually-transmitted diseases are winging their way into our park.
The harlequin is regarded as the most invasive ladybird species on earth.
It is larger and more aggressive than other ladybirds and will even eat them.
The bugs, which have black wings rather than our common red, are flying in from Asia and North America on the mild autumn winds, and pose a major threat to our native ladybirds because they carry an STD called Laboulbeniales fungal disease.
The fungus, which is passed on through mating, will infect our native species which are already under threat from habitat loss.
Our natives photographed the same day with the Harlequins-
PLEASE NOTE - after watching Gardeners World today 28th July 2017 the following may well be other forms of Harlequins and not natives. See link to harlequin identification survey here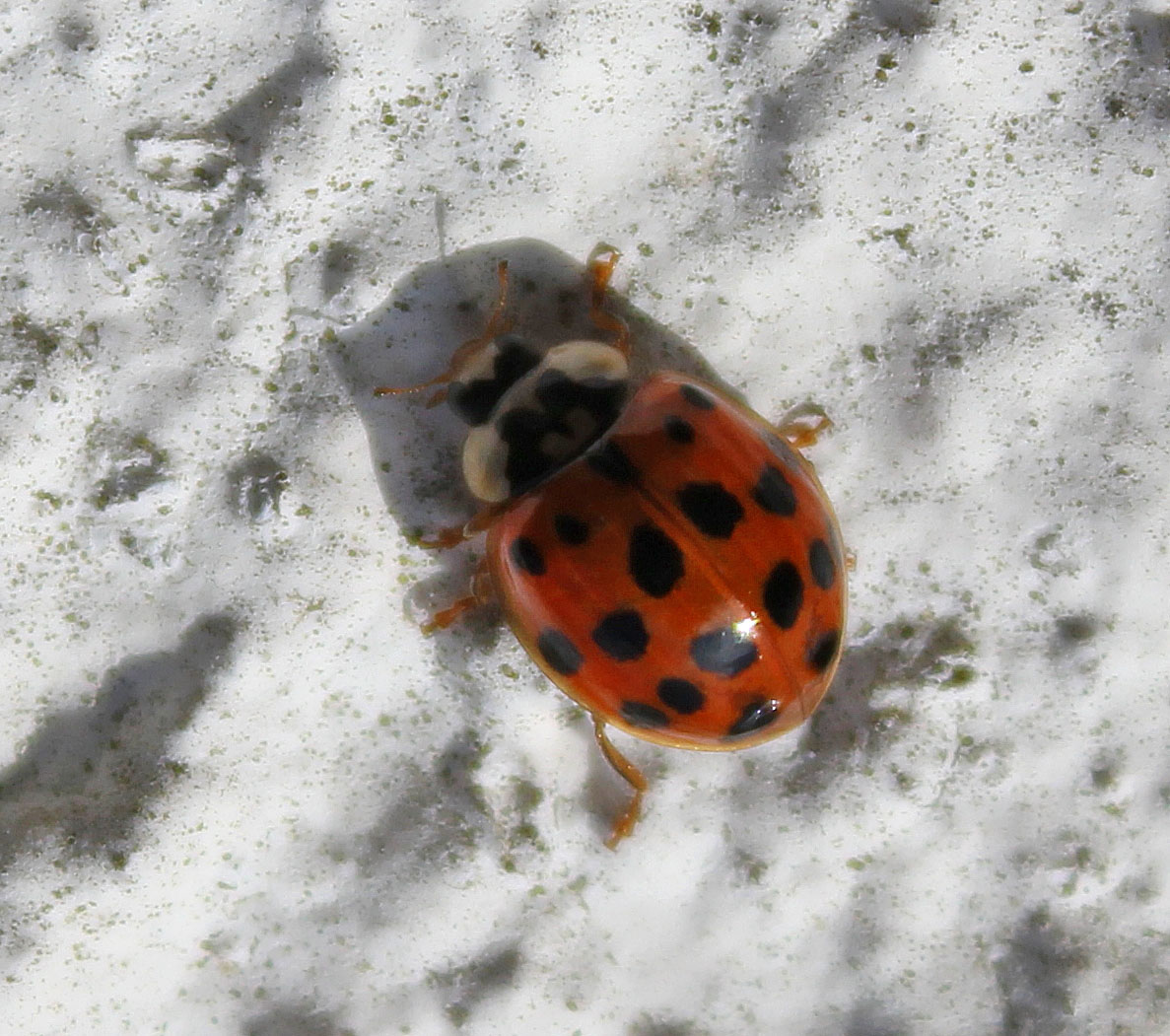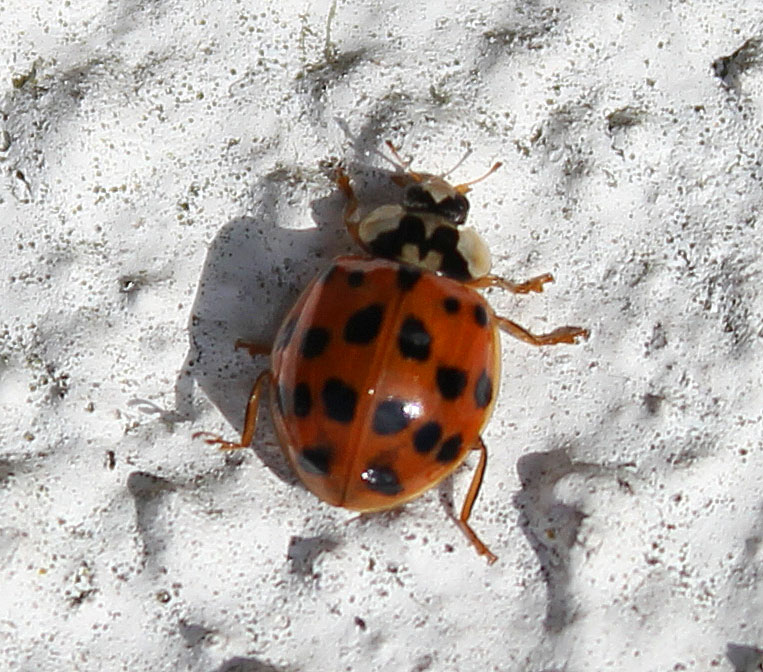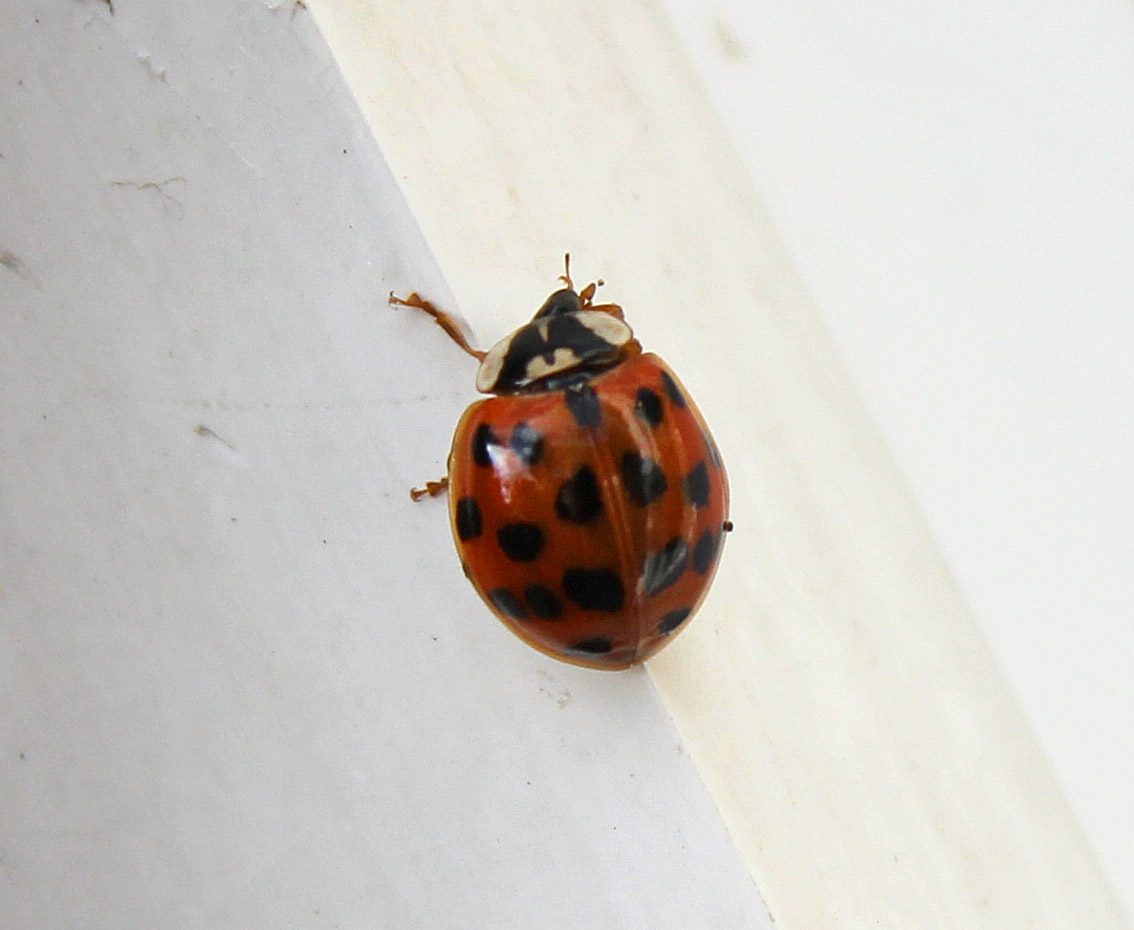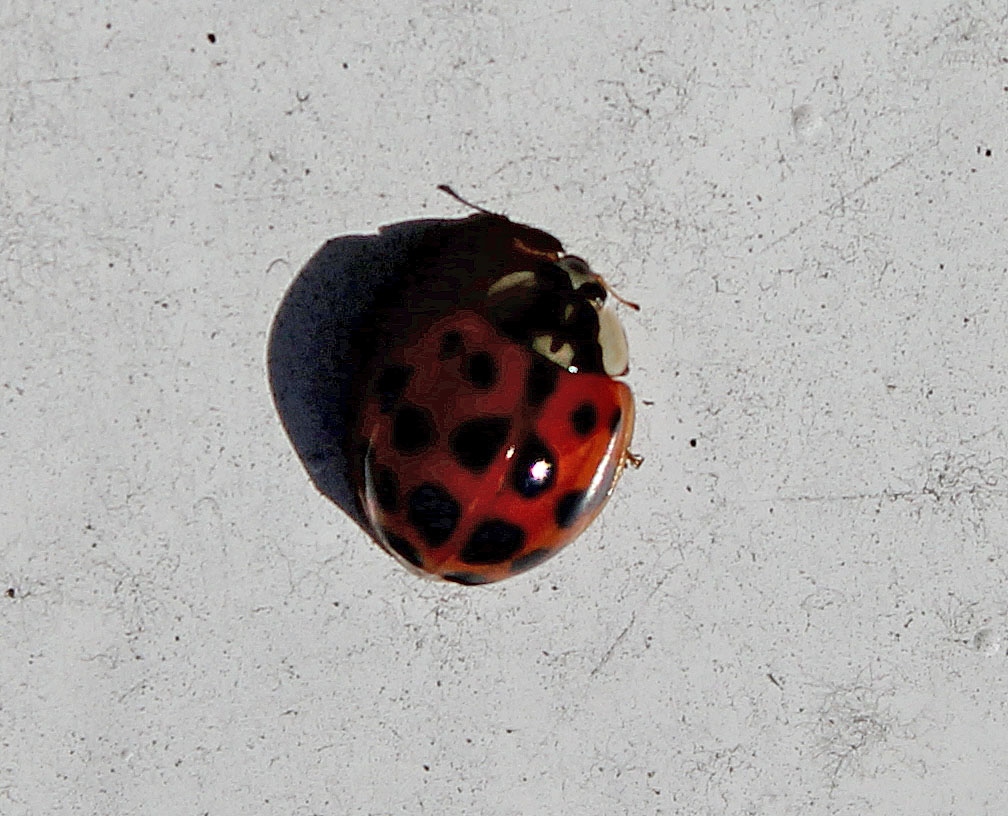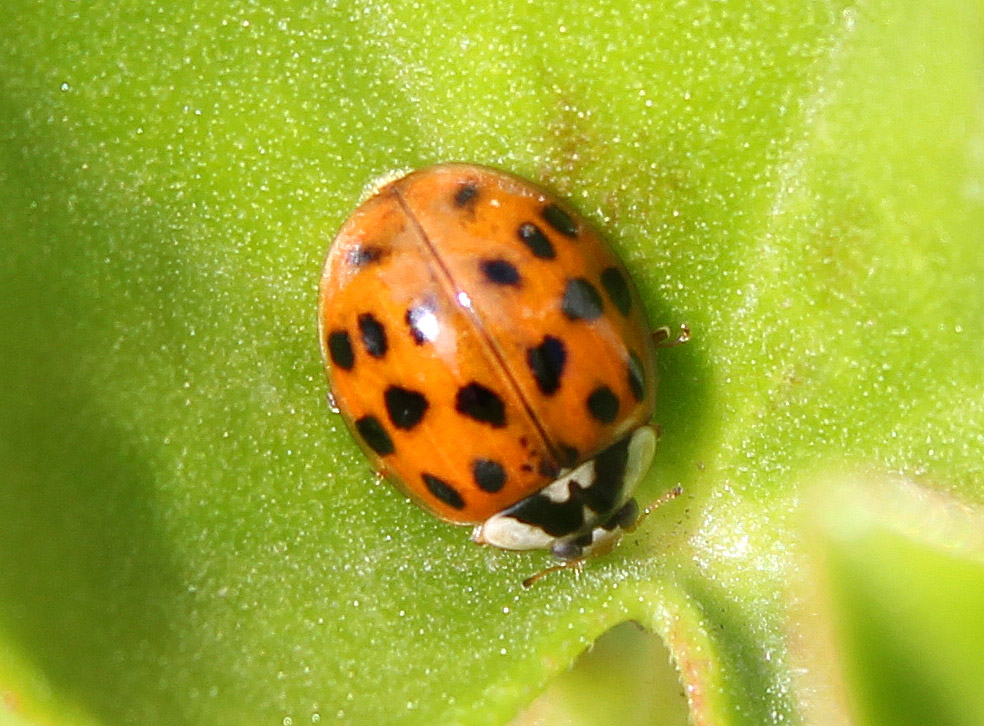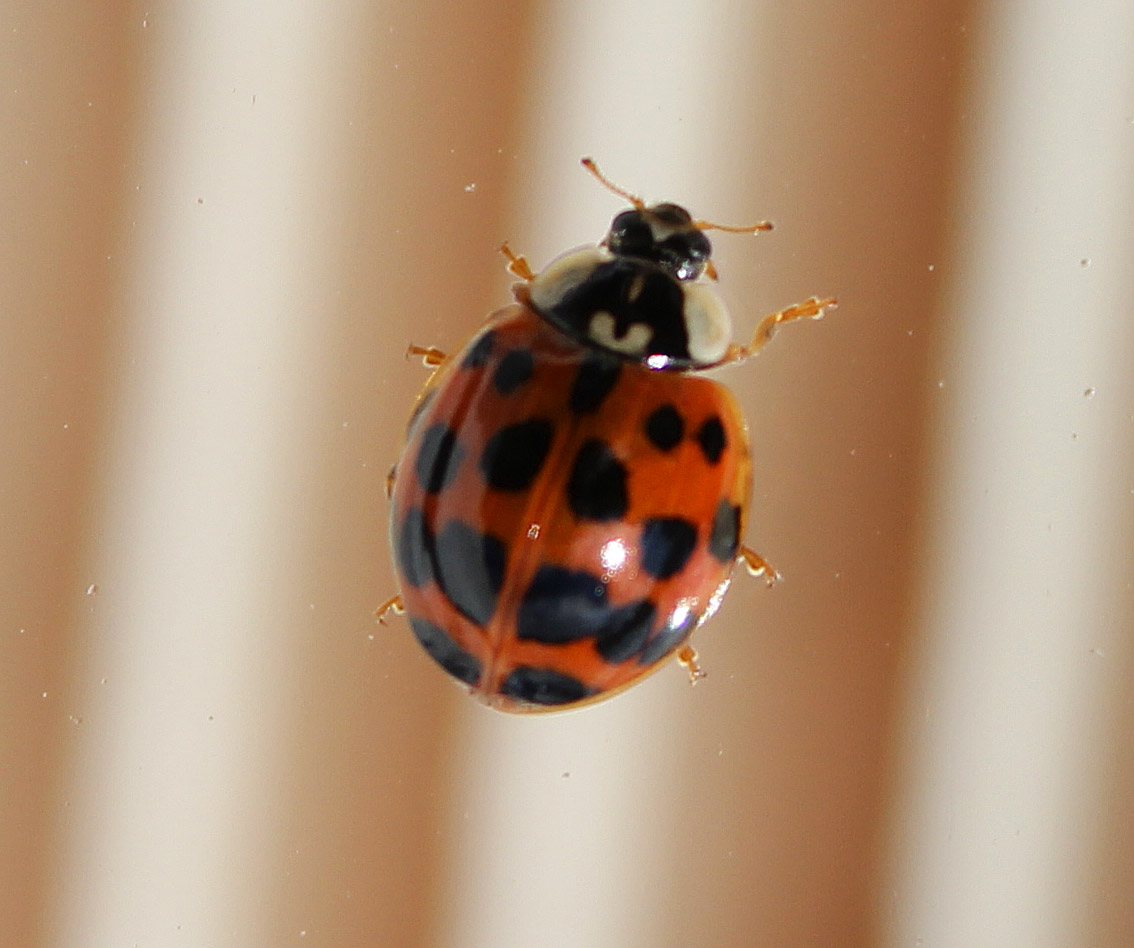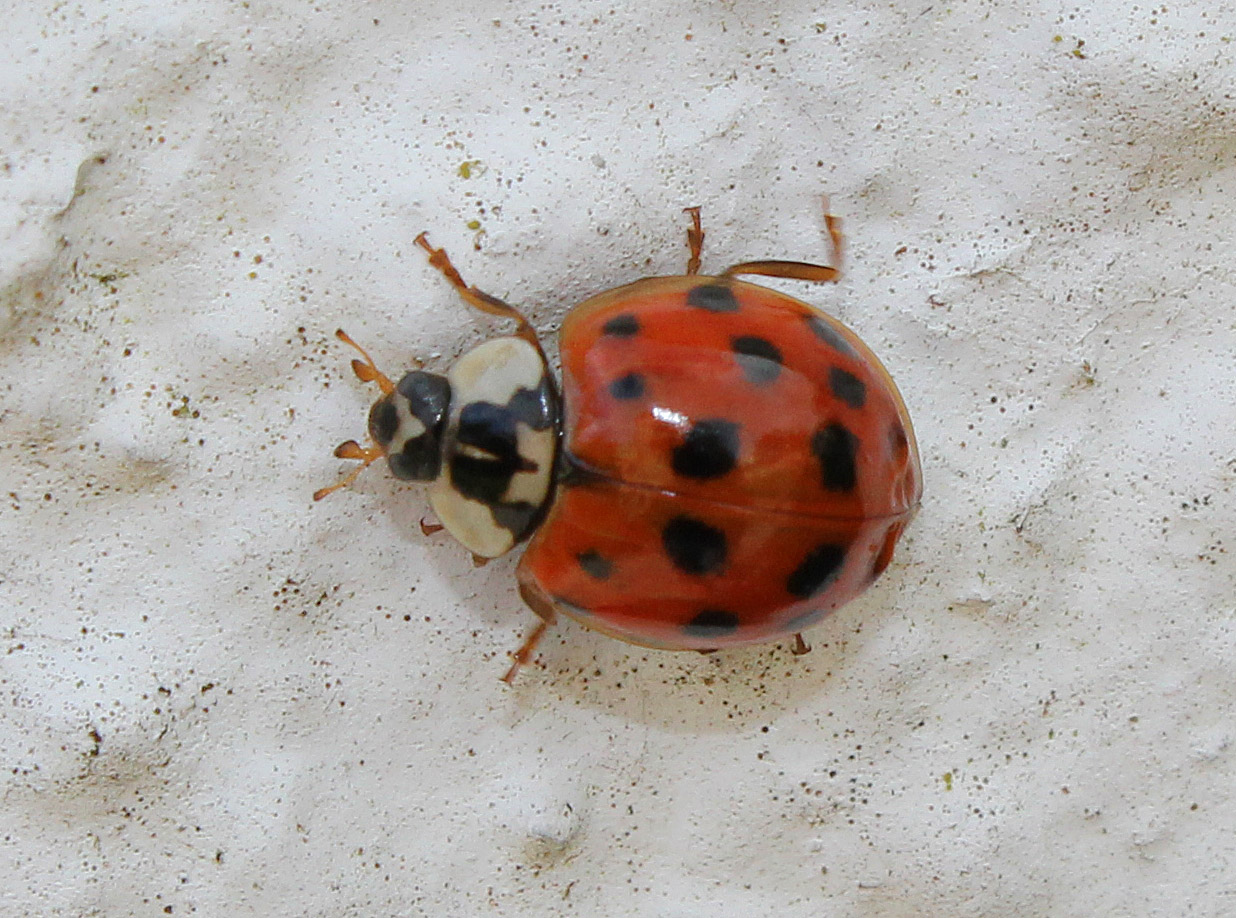 Large gatherings of harlequins can give off a chemical smell and in centrally-heated houses they may be woken up from hibernation by the warmth and fly around the house.
 The Buglife nature charity says that though harlequins are not a direct threat to humans, they can leave a nasty smell and crawl over your furniture, leaving unsightly stains, so people are advised to watch out.
Everything you need to know, from harlequins eggs to ladybird, all the facts can be found here

Here they are again -